Das Auslandspraktikum – Erasmus+ Malta 2021/22 – Blog – Gruppe 1
 Emira Ghodhbane (9f) , Sultan Wimmer (9f), Sophie Hörmann (9f) und Hatice Duman (9f)
Accommodation: Host Family, Arrival and First Impressions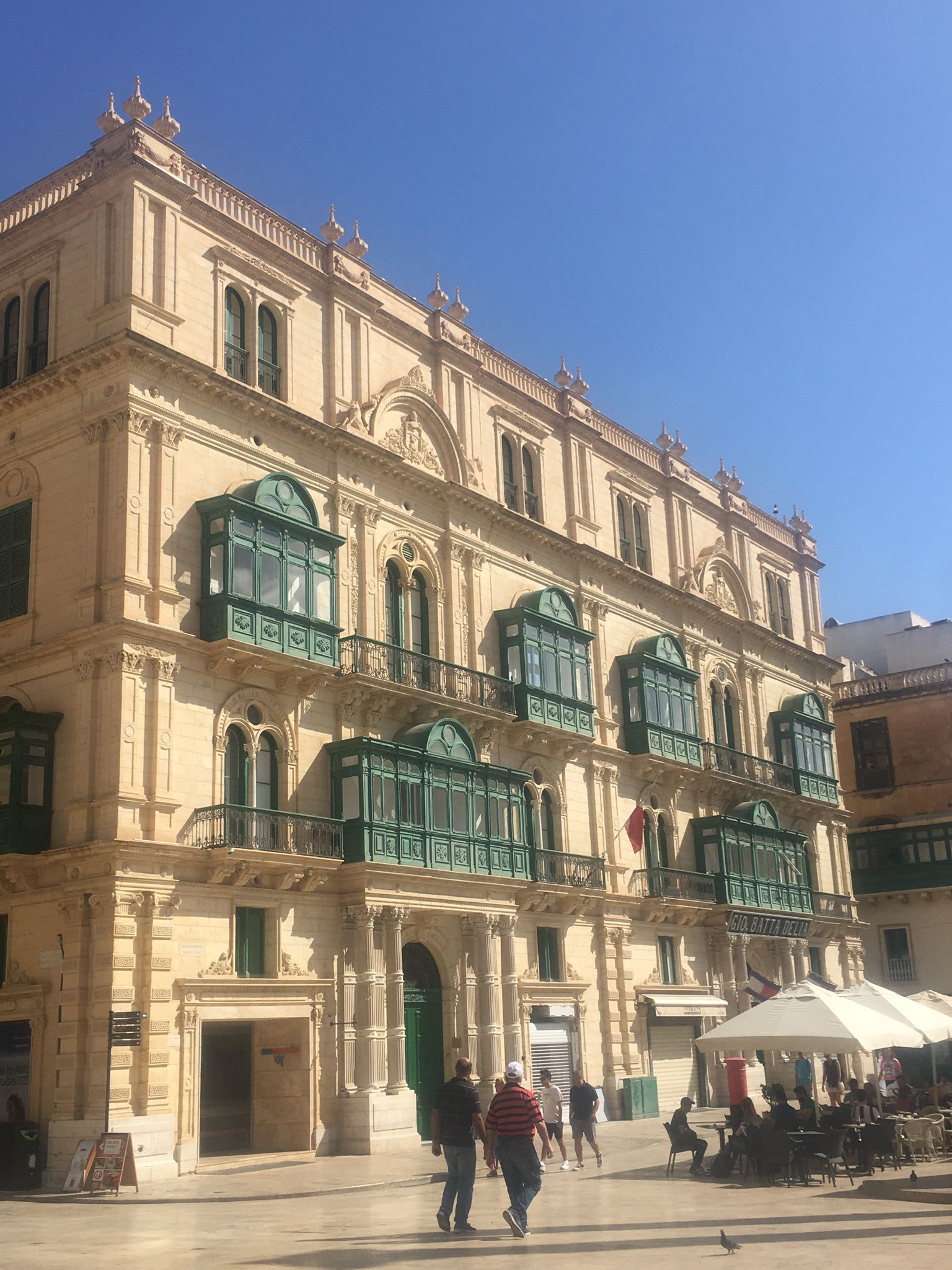 Our flight was on Saturday, 28 May 2022, at 12:10 pm. We had to be at the airport two hours before departure for the check-in, the security check and finally, the boarding. Our teacher, Ms Seez and her colleague, Ms Greger, and all the students had to wait at Terminal 2, on the first floor at the Lufthansa check-in. After a two hours flight, we arrived in Malta at 2:20 pm. We got picked up by our supervisor on site, Joseph Marquette, who ordered a shuttle for us and our baggage. Our luggage was loaded, and we were taken straight to our host mothers. Before that, we took some pictures at the airport, and Malta looked pretty appealing to us. It was windy, and the sun was shining. Our host mother, Fiona Galea, welcomed us with open hands and showed us where our bedroom and bathroom were and where the closest bus station was located, so we could find our way to the hotels and back home. Furthermore, she told us something about her family and the dog that lived with the family. Fiona was very kind and welcoming and explained everything we needed to know.
Sophie, Emira, Hatice (who came later on) and I (Sultan) slept in one room and had four single beds, two wardrobes and one chest of drawers. We now lived in a big, nicely decorated house with one bedroom and bathroom just for us.
Work Experience / Workshops
On Monday, Ivan Eric, the room division manager – the Bayview Hotel, Sliema Hotel, Azur Hotel and Bluebay Apartments, introduced us to our new workplace at the different locations of the ST Hotels Group. We all worked in these hotels for six days and were put into different sections daily. For example, one day you would work at the Azur Hotel in the restaurant for five hours and the other day, you would work four hours at the Bayview Hotel in the front office. The program was very varied.
The day started at 8 o'clock am and we had to work until 5 o'clock pm with a one-hour break in between. Our supervisors on site were Joseph Marquette, Theresia Greger and Carolina Seez. However, Miss Greger and Miss Seez only stayed with us for the first four days. It was expected from us to write in our report booklet on a daily basis. During our time at the Gzira Local Council, Maria Pia, our English tutor, helped us to improve our English writing skills, as we had to write a business letter - an enquiry. Together with her, we corrected one and wrote an infallible enquiry in our groups. However, we were also expected focus on several details at work. At the end, on Friday, 10 June 2022, we all gave a presentation. What was the content of that presentation? Well, we had to share our positive and negative experiences, things that we suggested for future programs like this and we could start our presentation by explaining what hospitality sectors there are.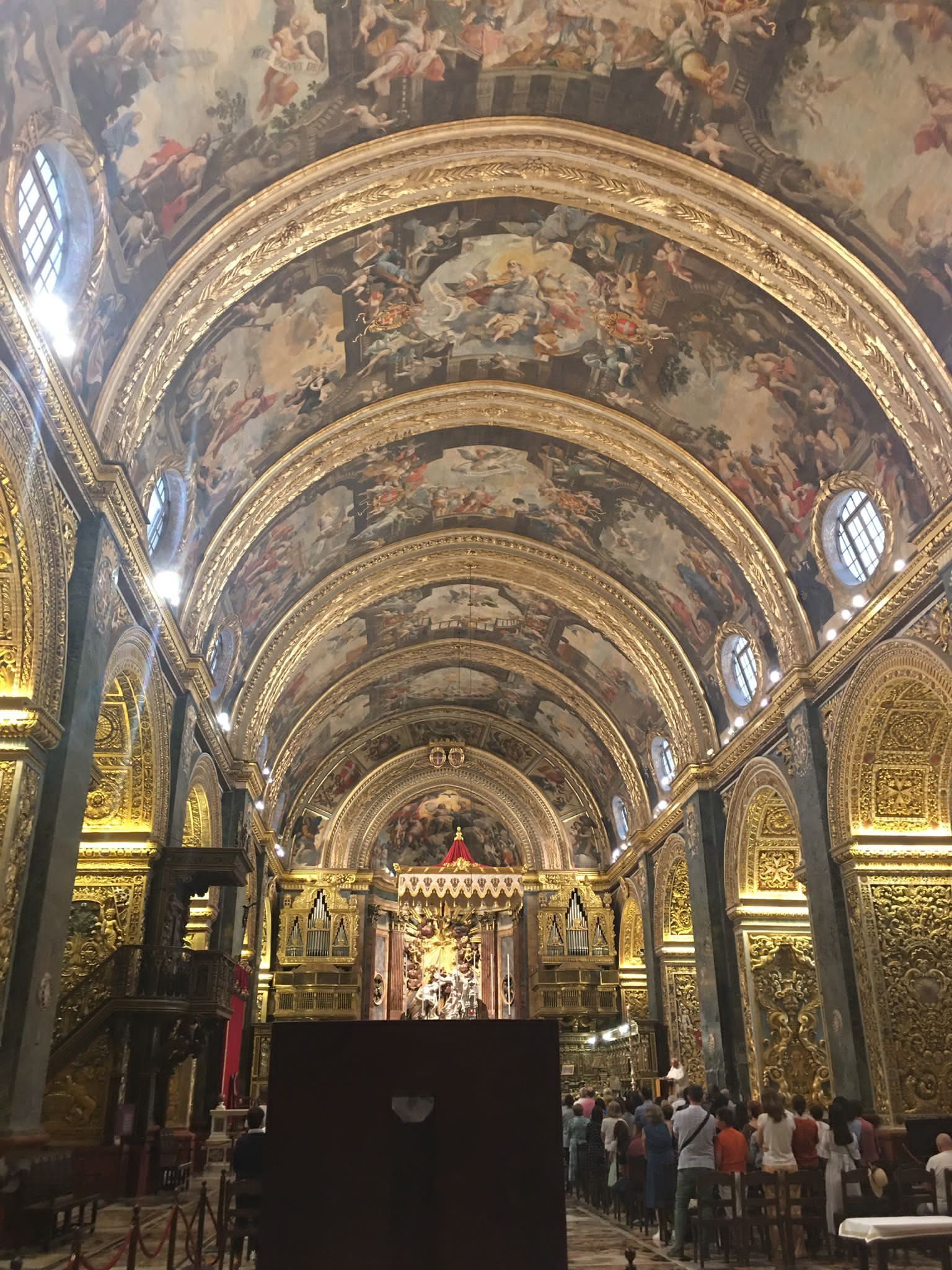 Free-time Activities and Sightseeing
On our first evening in Malta, we wanted to take the bus to Valletta, the Maltese capital, but got off in Msida. Unfortunately, we got lost but luckily found our way back home again.
On the weekends, we had time to get to know Malta better and visit some famous sights. On Sunday, 29 May 2022, we all went on a guided tour in Valletta and visited some famous places and sights, for example, the St. John's Co-Cathedral. We went up the Grand Habour and had a beautiful view. These experiences were one of the highlights for us. The tour helped us to learn more about the history of the buildings. The weekend after, on Saturday, 4 June 2022, we went to the lovely old capital city Mdina and got to taste the cheesecakes (plus some soft drinks) at the restaurant Fontanella Tea Garden. We had a great view of the surroundings from there, went on a walk, and enjoyed it. The next day, Joseph invited us to a boat trip to the Blue Lagoon. There we could go swimming and see the rocks and cliffs. We made several stops to see as much as possible on the way there. After work, some of the students of our group went shopping at the Tinge Point Shopping Mall, some visited Valletta and some others just had dinner at a nice restaurant. We sometimes went to buy some clothes in Sliema or buy jewellery next to the Bayview Hotel. On the last day before our flight back home, we met everyone again, including Joseph, at the Podium Café in Sliema. He gave us the certificates and offered us non-alcoholic cocktails and soft drinks. And this is how our journey ended. What a great experience! Thank you Malta!