Das Auslandspraktikum – Erasmus+ - Malta - Blog – Gruppe 2
Samira Andraschko (9v) , Lena Krettler (9v), Sara Barna (10 cz), Aqsa Wardak (10cz)
1. Free-time activities and Sightseeing:
Joseph, our supervisor in Malta, showed us around Malta and taught us about the Maltese history. For our first big trip, we went on a "Mdina at night" tour, during which we enjoyed the beautiful view of the lights from the houses downhill and then we went into a nice restaurant and were invited for a cake tasting. Afterwards Joseph offered us some ice cream and then, very late at night, we were taken back to our host families. On following day, on Sunday, Joseph took us on a boat tour to the Blue Lagoon and to the Crystal Lagoon. It was a very warm and sunny day and the water was crystal clear. We went swimming in the Crystal Lagoon and later in the Blue Lagoon, but there were quite a few jellyfish so we were a bit too scared to swim there. On our last whole day after the presentation, Joseph went to a cafe with us and we talked a lot and drank some nice drinks. We stayed there until noon and originally Joseph planned to go home, but instead we went to Gzira and ate some ice-cream again. It was a great evening and we had some very good conversations with Joseph. The trips were always a lot of fun and Joseph was nice to us.
2. Our Host Family:
When we first met our host family and the house we stayed in, we were very surprised by how friendly and welcoming they all were. Our host mother showed us our rooms and explained the rules; we looked around the beautiful house and inside the garden. Everything was beautifully decorated, very detailed with plants and pictures. The house and the garden were huge; they had a big balcony and an even bigger rooftop, where we stayed at after work – just to relax. We lived with a friendly elderly couple and sometimes their son came to visit. Our rooms were divided into one room with 3 beds and one single bedroom. The host father had some chickens outside and we could hear them every morning. The host mother, Lily, prepared good food and tried to cook some traditional Maltese dishes as well but one of us is not allowed to eat meat, so it was hard because all the traditional meals are with meat. One day we ate delicious ice cream as a desert. Sometimes after lunch, we even talked with our host mother for a couple of hours. The host father, Lino, showed us the garden and his animals; he explained to us how often he has to work in the garden and how much he likes gardening. This was our first time being with a host family and all the four of us can agree that it was an amazing experience.
3. Working at the ST Hotels:
Our experience of working at St. Hotels in Malta was very special and unforgettable. We were on a two weeks internship. Six days in total and two days just for the English course and on the last day, we had to give our presentation.
From Tuesday to Friday, we had working days and then there was the weekend. Then from Monday to Tuesday, we had the working days again. We all spread out to different places that belong to the St. Hotels. There were four branches of St. Hotels: Bayview, Bluebay, Azur, Sliema. We had different tasks to fulfil but at some point, we all had to work in the following sections: reception, restaurant, pool bar, housekeeping and reservations. Our dress code consisted of black trousers, black shoes and a white shirt with tied hair, especially in the restaurants. At the reception, we had to treat and handle the guests we had to do the check- ins and the check-outs, give the guests the forms to fill in and afterwards we had to enter all the information on the computer via the Scrigno website. We also had to show the guests the luggage room and help them there. We also tried to help the guests at the reception if they needed something, for example for the pool or if their cards did not work then we had to renew it for them. At the restaurant, we had to set the tables. We checked on the room numbers of the guests who came for breakfast, checked on the bar to see if something was not available. We also helped in the kitchen with polishing the dishes and arranging them properly and after the breakfast, we had to set the tables again and we cleaned the sofas and the floor. At the end, we had breakfast together with all the other colleagues. At the pool and bar we had to
Treat the customers, make cocktails and arrange payments.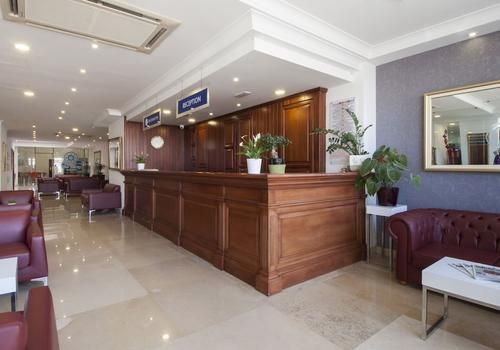 4. The English Course:
When we first met our English teacher Maria Pia, we were very happy because she was so nice to us, she was making some jokes to make us feel more comfortable with her, and I find that really nice of her. On the first day of the actual English course, we were a little bit late because we did not find the street and two girls of our group were even sick.
When Maria Pia told us what do we had to do in only two days, we all got a little bit scared because it was so much work to do in such a short period. But Maria Pia said that she was so proud of us creating the presentation so fast and that normally people do this in three months' time. During the English course, we also had to write some business letters.
For our last day at work, we had to give our presentations. We had to talk about the work and our experience at the ST Hotels. In the end, everything worked out fine because of our wonderful teacher Maria Pia. Thank you very much!